Skip to Main Content
It looks like you're using Internet Explorer 11 or older. This website works best with modern browsers such as the latest versions of Chrome, Firefox, Safari, and Edge. If you continue with this browser, you may see unexpected results.
US History in Context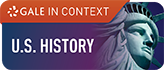 Use this database for primary sources and other information about United States history.
Note-taking within the databases
You can highlight and take notes within many of the databases...but you need to save them to your Google Drive as shown below.
---
---
When done, click on the View all highlights and notes to get a page that you should Send to your Google Drive to save.