Skip to Main Content
It looks like you're using Internet Explorer 11 or older. This website works best with modern browsers such as the latest versions of Chrome, Firefox, Safari, and Edge. If you continue with this browser, you may see unexpected results.
World History in Context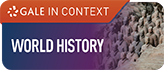 Use this database to access historical information from the beginnings of recorded events up to the present time.
---
Search Tips
Each article will include a toolbar on the right where you'll find your MLA citation and you can also download the article to your Google drive as highlighted below.